"Education is the most important problem in the world. If we could solve it, give everyone the education they want and need, we'd have a world where everyone grows up with a chance to develop their unique talents. We'd solve many more of the critical problems the world faces, and we'd likely be happier, kinder and healthier, too. That's the kind of future we'd like to help bring about." That vision drove Sam Chaudhary, a former high school teacher and McKinsey consultant, and Liam Don, a computer-science Ph.D. student and game developer, to work together in 2011. Despite education being a $10 trillion market, by many measures education hasn't really improved: most kids today do not get a dramatically better education than the one their parents had. Sam and Liam saw a chance to change that, by building a new type of education company: one obsessed over serving teachers, children and families, and helping them get a better education experience for their children. ClassDojo was born, with the vision of helping every child on Earth get an education they love.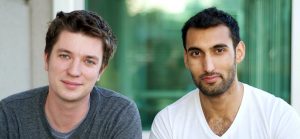 ClassDojo started out as a communication app for teachers, children and families. They use it to build a classroom community, sharing pictures, videos, messages and moments through the school day. Teachers easily engage families, families get to be part of their children's education and life growing up, and kids get the supportive "village" they need around them. And they love it: teachers, children and families in 95% of U.S. elementary and middle schools have joined ClassDojo. It has grown to become one of the world's most widely-used education products, with roughly 1 in 20 of all children in primary school globally using it, across 180 countries. Teachers, children and families on ClassDojo rave about it, saying they feel closer to each other, and have more trusting relationships than ever before. ClassDojo's user base has translated it into 35 languages.
Co-founders Sam and Liam were included on the Forbes "30 Under 30: Education" list in 2012 at the age of 26—and again in 2013. That same year, Forbes recognized ClassDojo as one of the "100 Most Promising Companies in the United States", and Fast Company included the company on its "10 Most Innovative Education Companies in the World" list. In 2014, ClassDojo was awarded TechCrunch's Crunchie award for Best Education Startup. In 2015, its founders were included on Inc.'s "30 Under 30" list, and in 2016, Fast Company recognized the ClassDojo app as one of "The 35 Most Innovative Apps of the Year". In 2017, Inc. named ClassDojo one of the "25 Most Disruptive Companies" of the year. And in 2019, the company was selected as the Best in British Tech by the British startup community in Silicon Valley, at the GBx Gala.
So what's ClassDojo's secret sauce? Since day one, Sam and Liam took a very different view on improving education: they saw that most companies had tried to improve education from the top-down, with an enterprise strategy: selling products—software tools, computers, whiteboards, the list goes on—to school districts or governments. The founders recognized that education is not a product to be sold, but an experience that is made by teachers, children and families working together every day. To improve that experience, they realized they needed to go bottom-up, helping the teachers, children and families making that experience to work together better. Unlike the enterprise companies of the past, ClassDojo was born as a new type of education company: a consumer education company, intent on changing education from the ground up.
The Founders' Journey
Part of the company's success comes from the passion of its founders for education. Before co-founding ClassDojo, Sam taught while still a student at his own school and then again after finishing his undergraduate studies at Cambridge. He also worked in McKinsey's global education practice in London, where he worked with the UK government and international NGOs on improving education systems.
Liam worked on one of the world's most popular online games, Runescape, and was pursuing a CS Ph.D. focused on the use of technology in classrooms at the University of Durham. The two met in 2011 at a startup weekend event just three months prior to being accepted to Imagine K12, a startup accelerator focused on education, and part of the prestigious Y Combinator program.
The two moved out to the Bay Area to participate in the program. Sam, ClassDojo CEO, recalled the beginning of the journey in the US: "we didn't know anyone in America: we had never lived here, we had never worked here. In retrospect, that was important, because we could look at things with fresh eyes, and think differently. We had a bit of an 'Emperor's New Clothes' moment: we could stand back and look at the old top-down approaches, and just see that they hadn't worked. It made it clear to us that we needed to help the people on the ground: the kids themselves, their teachers and families. Our view was that improving education means serving the people actually doing the work, helping them change things from the ground up."
After the pair shared a hotel room for the first two weeks, they found a one-bedroom apartment in Palo Alto. "I got the bed and Sam got the sofa. I told him: 'Hey, I'm writing the code, you need me. (laughs) It was crazy times! We worked pretty much 7 days a week starting out", remembers Don in an interview with Forbes. Living together created a strong bond between the founders, which helped them when it came to making decisions about the company's future. "We really got to know each other; we built a lot of trust. When you find someone who shares your values and vision, it just makes sense that you want to be around each other—ClassDojo was built around that trust, that friendship, that Sam and I have", explains Don.
From Launching to Scale
The two started out by talking to as many teachers as they could. Over their first seven weeks in the Bay Area, they did hundreds of video calls and face-to-face meetings, emailed with thousands more, and did lots of bike-rides to schools around the Bay.
In week eight, they launched the first version of ClassDojo, and saw 80 teachers signing up for it in its first week. Just four weeks later, that had grown to 12,000 teachers.
How did it all happen? Word-of-mouth.
"We were overjoyed that those 80 teachers used ClassDojo in our first week. We couldn't have been happier. Then they started telling other teachers, their friends, about it. And they told others. At the end of that first month, thousands of teachers were using ClassDojo. I remember turning to Liam in disbelief—we were like, "Well this is amazing", remembered Chaudhary.
For co-founder Don, ClassDojo's impressive growth is a result of their obsession with serving their customers. ClassDojo team constantly talks with teachers, children and families, researching as many as 10-20 new ideas to improve ClassDojo for them, every week. Some of the biggest improvements to the app have been a direct result of feedback from teachers and families—for example, as a translation feature that enables messages between teachers and families to automatically be translated into 35 languages, which came from observing teachers struggle to reach families who don't speak English at home.
"We believe the people in classrooms, properly empowered, can change education," says Don, "Our job is to bring those communities of teachers, children and families together, and then help them get the tools and ideas they need to improve education for their kids. We're doing that all over the world now—that's how we believe we can improve education for hundreds of millions of children, entirely from the ground up."
Since founding, the San Francisco-based company has raised $66.1 million from investors including Y Combinator, Shasta Ventures, General Catalyst, Signalfire and GSV Capital. Impressively, ClassDojo's team has been able to manage that cash conservatively, by keeping the team small: the company reaches its global audience of more than 40 million students, with just 45 employees. Notably, growth to date has continued to be 100% through word-of-mouth from delighted teachers, children and families who tell others about ClassDojo; the company has not spent a dollar on paid acquisition.
"I've always thought it surprising how much small, highly talented, highly empowered teams can do. That describes ClassDojo's teams… and it also describes classrooms!", commented Chaudhary.
Both founders take great pride in the company's unique culture. Similar to the company's strategy, the culture values bottom-up ideas, rather than top-down mandates—an idea the founders call "context, not control". They say their culture values "shared context, trusting relationships, taking responsibility, and continuous improvement". He sees these as related: candidly sharing feedback and all the context of the business builds trusted relationships. Those enable people to do complex work together. Every member of the team has the freedom to own and lead initiatives in the company, no matter their job title, and the responsibility to think about how best to get the outcomes the business needs. The core of the culture is about continuous improvement: every team retrospects on what's gone well and poorly, sharing their thoughts across the company, and finding ways to systematically improve on every success and failure.
The Support of Communities
Liam and Don credited the different communities around them: from caring teachers and mentors, to families and friends for the supportive culture they built around ClassDojo. They agreed that one of the toughest parts of building a company is the emotional ups and downs founders go through.
"Moving to the US was important for us—we both saw it as a place where big things could happen—but it also meant we found ourselves far from family, friends, and communities we grew up with. So it was a lovely surprise to find the GBx community, all of whom moved here (to the US) to work on important problems, and are going through the ups and downs together". According to Chaudhary, GBx has been a source of support, advice and laughs through the good times, and the bad. "Plus, there's nothing like a friendly pint and some dry British humour to put the toughest times in perspective"he added. Introduced to GBx Global by our board member Andy McLoughlin, also their friend and investor, the ClassDojo founders recalled that it only took one dinner to be sure they had to be part of the community. "We are grateful for the raft of people who have mentored us and guided us on ClassDojo's journey so far", acknowledged Chaudhary, adding that they would love to pay that forward for other founders. "If there is anything in our journey that might help, we'd love to share it. And of course, we'd love to find mentors to learn from as ClassDojo grows to the next level", noted Chaudhary.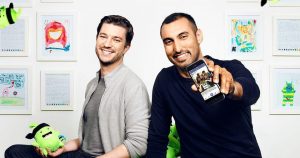 The Future
ClassDojo's vision is "to give every child on Earth an education they love". More recently, ClassDojo has gone beyond being a communication app, to actually providing learning experiences children love, in the classroom and at home. One example was ClassDojo's first ever original series on the idea of the 'growth mindset' in collaboration with Stanford. Another was a follow-up series on 'empathy' with Harvard, and another on 'mindfulness' with Yale. Roughly one in three U.S. students (ages 5-14) have tried these learning experiences in their classrooms to date, sharing them home with their families.
One of the company's biggest recent developments has been unveiling their business model. Unlike most companies in education, ClassDojo has committed to being free for teachers forever. They've also committed to not passing information to advertisers or marketers. Instead, Chaudhary and Don have been clear from the start that, in line with their vision, their business model would be to offer families additional learning experiences for their children, beyond those they can get at school.
"Families around the world often want more for their children than what they can get at their local school; their kids' education doesn't feel complete to them. On the other hand, schools are struggling with resource cuts and limited budgets—it's tough to give every family exactly what they want for their children. We believe we can find or create the best learning experiences in the world, the ones families would love for their children, and offer those to families, helping them give their kids a more complete education." That plan was implemented last year when the company raised their Series C, and announced Beyond School, an optional subscription for families. Reception has been positive, with families around the world purchasing Beyond School to complement the learning experiences their children are getting at school with some learning experiences at home, in areas such as building values, practicing mindfulness, and even helping with bedtime. "In the end, we hope every family gets the education they really want for their children, one their children love," says Chaudhary. "We're just getting started".